Paper Cups, Paper Coffee Cups
Custom Paper Cups,Disposable Paper Cups,Biodegradable Paper Cups
All styles are just for your reference,we can customize base on your all requirements.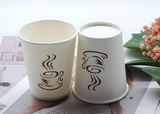 Custom Made Paper Cup.
Material & Style:Food grade, Yibin/Sun/Five stars produced paper, PE Coating
Feature:Disposable, 1layer PE Coating
Logo:Customized Logo Acceptable
MOQ:50,000PCS
Delivery Time:20-25 Days
Payment:T/T
Certificate:CE / EU, CIQ, EEC, FDA, LFGB, SGS
Trademark:OEM/ODM
HS Code:4823699000
Disposable Paper Cups: Benefits and Drawbacks
Disposable paper cups have become a common sight in today's fast-paced world. We see them in offices, cafes, restaurants, and even at home. While they provide a convenient means of containing and transporting liquid, their environmental impact has been a topic of debate. In this article, we will examine the pros and cons of disposable paper cups.
One significant benefit of disposable paper cups is their convenience. They are lightweight and easy to handle, making them the perfect choice for on-the-go consumption. Paper cups are also versatile as they can be used for both hot and cold beverages, providing good insulation for the contents while keeping drinks hot or cold for longer. This makes them popular in quick service restaurants, cafes, and office break rooms where speed and convenience are essential.
Another benefit of disposable paper cups is their environmental friendliness. Made from biodegradable paperboard or cardboard, paper cups are compostable and can break down in a natural environment. This means that when they are disposed of correctly, they do not contribute to the build-up of landfill waste or plastic pollution in our environment. However, paper cups cannot be recycled with other household waste and need to be separated for recycling facilities.
Despite their convenience and environmental benefits, disposable paper cups have been criticized for their negative impact on the environment. While paper cups are biodegradable and compostable, their production requires significant amounts of energy and water. The paper industry is also a major consumer of trees, which are a valuable resource for the planet. The production of paper cups can lead to deforestation and contributes to the loss of habitats for wildlife.
Another criticism of disposable paper cups is their single-use nature. Although paper cups are biodegradable, they still end up in landfills or as litter after just one use. This creates a disposal problem and places a burden on our environment. The excessive use of disposable paper cups can also contribute to deforestation and resource depletion, leading to negative ecological impacts.
In conclusion, while disposable paper cups provide convenience and practicality, their environmental impact should not be ignored. We need to consider reducing their usage and opt for more sustainable alternatives such as reusable mugs or glasses. By making sustainable choices, we can help mitigate the negative impact of disposable paper cups on our environment and contribute to a more sustainable future.
Contact via Email

Chat via WhatsApp
We are interested in your comments and questions.
Please fill in the following information and we will contact with you as soon as possible.
FAQ
1. Can I have a custom designed and accept OEM or ODM?
Yes, We are a custom factory. We design and construct each project to the individual customer's needs. All of our Paper Cup are custom made based on your artwork and packaging need.

2. How do I measure a box?
The proper sequence of dimensions is Length X Width X Depth. Place the carton in front of you with the open end up.
Length is the longest open end dimensions from left to right.
Width is the shortest open end dimension from front to back.
Depth is the remaining dimension from top to bottom.

3. How soon can I get a price quote?
For most projects, once we know the carton style, dimensions, paperboard type including caliper, printing requirements and quantity, we can provide you with a price quote within 24 hours.

4. Do you provide samples? Is it for free?
Existing Sample for free, can deliver immediately. Customized sample need sample charge, will be completed within 3-7days. Freight cost will be at your side.

5. Can you do the design for us?
A: Yes, We have a professional team having rich experience in designing paper products.

6. How long will it take to receive my products?
As a general rule, it will take 4 weeks for us to produce your custom designed and printed products.